Abbott at a glance
Abbott is a global healthcare company devoted to improving life through the development of products and technologies that span the breadth of healthcare. Established in 1888 it now markets its products to 150 countries. Abbott Corporate Headquarters are in Chicago and it employs approximately 69,000 people around the world.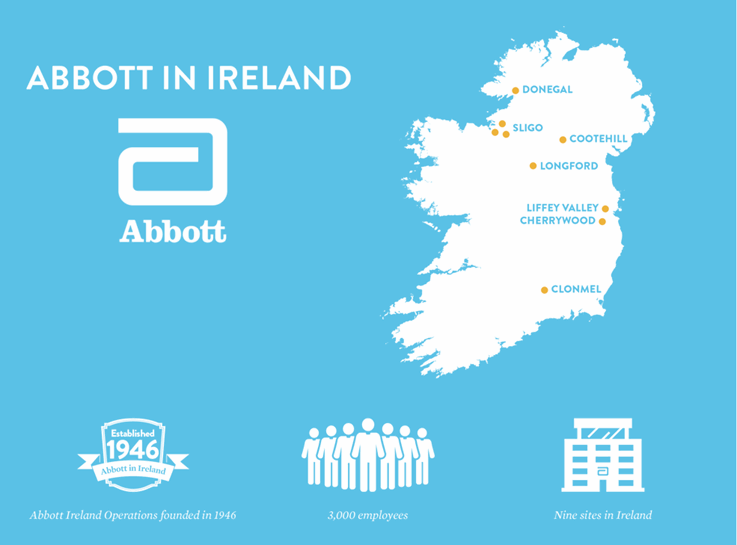 Abbott in Ireland
With a long (1946) and deep presence in Ireland, Abbott is one of the country's largest healthcare companies with operations in all four provinces. Since 2005, Abbott has invested almost €500m in its operations in Ireland, and over the past five years contributed almost €2bn to the Irish economy in taxes and payroll and purchase of materials and services.
Abbott Ireland manufactures products that are exported to global markets. It invests in R&D to develop new solutions for emerging healthcare challenges. $1.45bn was invested by Abbott globally, with investments at four Abbott Ireland sites in 2013.

Abbott Diabetes Care Donegal
ADC was established in 2006 outside Donegal town. It is a centre of excellence for blood glucose monitoring strip production.
The site manufactures and distributes the worldwide supply of Abbott's FreeStyle and FreeStyle Lite brands of blood glucose test strips, which are used in conjunction with FreeStyle blood glucose monitoring meters.
The site collaborates with Abbott R&D to introduce next generation processes and materials to progress coulometric monitoring technology.