FreeStyle Blood Glucose Meters

•••••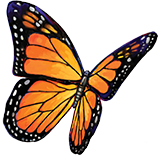 FreeStyle and related brand marks are trademarks of Abbott Diabetes Care Inc. in various jurisdictions. Abbott is a global healthcare company devoted to improving life through the development of products and technologies that span the breadth of healthcare.
•••••
Latest FreeStyle news, announcements and thoughts for people taking a proactive approach to managing their diabetes
---
It's that time of year again when little witches, ghosts and vampires are wandering the streets, knocking on doors and…
FreeStyle Libre System
•••••
The FreeStyle Libre flash glucose monitoring system is designed to liberate patients from the hassles of glucose monitoring.
Our Products
•••••
Every day, we are constantly striving to innovate and improve our blood glucose meters to make sure we provide you with products you can rely on to effectively manage your diabetes.
What is Diabetes
•••••
Diabetes is a lifelong condition where the amount of glucose in your blood is too high due to your pancreas either not producing any insulin, or not enough insulin, to help glucose enter your body's cells – or the insulin that is produced does not work properly (known as insulin resistance).
Living with Diabetes
•••••
Diabetes doesn't have to stop you from living the life you want. With help from your care team and careful management, you can be in control of your diabetes and ensure it doesn't control you - allowing you to stay healthy, active and live life to the fullest.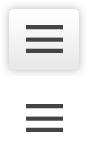 App Overview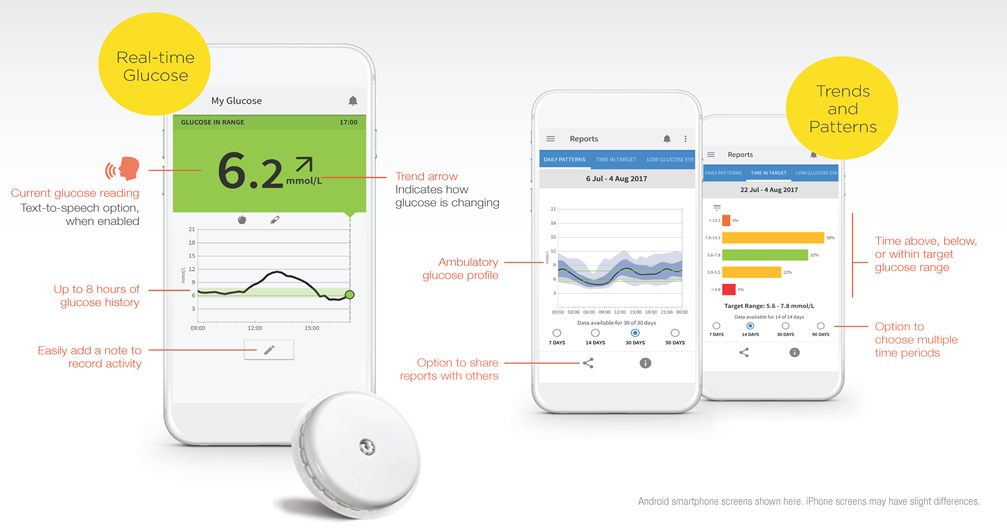 1. Wear the FreeStyle Libre sensor
Apply a new sensor to the back of the upper arm. Wear the sensor for up to 14 routine days to automatically measure glucose day and night, no routine finger sticks required.1
2. Scan with your phone
Once you've set up the FreeStyle LibreLink app on your phone and started a new sensor, simply 'scan' it by briefly holding your phone against the sensor until you hear two beeps.
The app uses the near-field communication (NFC) capabilities of your phone to capture glucose data from the sensor.
3. After initial 60 minute warm up you can view instant results
Following a typical scan you will see displayed on the screen: current glucose reading, an 8-hour glucose history and a trend arrow showing if glucose is going up or down, or staying steady.2
Mobile Reports
Spot patterns and trend on the go with mobile reports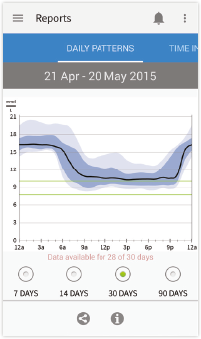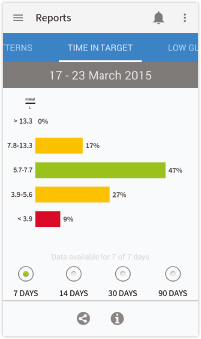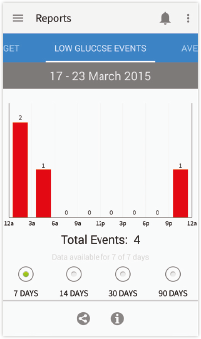 | | | |
| --- | --- | --- |
| Daily Pattern | Time in Target | Low Glucose Events |
| Get a complete picture of glucose variability | See how your glucose results match up with your target range | See how your glucose results match up with your target range |
| | | |
Simulated data for illustrative purposes only. Not real patient data.

.
This is the Republic of Ireland Abbott Diabetes Care website
If you'd like to see country-specific content relevant to you, please visit our list of global websites, or....
continue to the Republic of Ireland website
• • • • • • • •