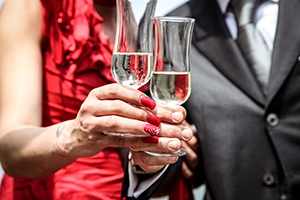 So we're approaching New Year's Eve. It's time for the last bit of indulgence and jollity before January restraint ought to be kicking in and alcohol is often a big part of the ultimate celebration of the year.
The potentially adverse effects of alcohol on anyone's health are well-known. People with diabetes have to be particularly careful, because alcohol can affect blood glucose levels. Things like forgetting to eat or not testing can lead to hypos, and, on a purely biological level, drinking alcohol prevents your liver from being able to regulate blood glucose the way it should. However, it's unrealistic to expect New Year's Eve to be an alcohol-free zone and for every person with diabetes to abstain.
There's some really useful info about monitoring your alcohol intake here: /living-with-diabetes/food-and-drink/alcohol and here: /living-with-diabetes/diabetes-and-healthy-living/partying-and-socialising.
To help you get through New Year's Eve without suffering a hypo, passing out before midnight, or spending New Year's Day with a hangover, here's a couple of quick tips:
One on, one off
Alternating alcoholic drinks with water, diet drinks and the like can reduce the impact on blood glucose, so you needn't constantly worry about the pace at which alcohol is being consumed.
Drink + food = a great combination
Don't drink without eating and try to avoid starchy foods. It might be a good idea to have a small snack before bed when indulging in the odd bit of evening drinking.
Happy celebrating!