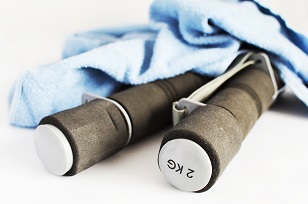 You're only one workout away from a good mood." "If there's time to Facebook, there's time to exercise." "The only bad workout is the one that didn't happen." The internet, magazines, social media, television, adverts are full of motivational quotes to encourage you to get exercising. No matter how motivated these make us feel, how right the sentiment, or how inspiring the models are, do they work when it's freezing outside?
We know you know why you should exercise. So let's just concentrate on overcoming that final point between wanting to do it, knowing what to do, but at the last minute not doing it. Our minds do a good enough job at finding excuses not to exercise as it is without the weather putting us off further. Here's 10 ideas to give you some practical inspiration:
Think long-term: you need to exercise year-round to get lasting results, or anything you achieve in warmer, drier weather may be wasted.
Make sure you eat well so you have the energy to get moving - iron is particularly important (dark leafy greens are ideal)!
Try some home workouts. These can be the perfect excuse-buster. It's as easy to put a DVD on as watching TV, saves time, and will make your evenings feel longer.
Take yoga classes, or join an indoor sports group like a badminton club. Many people find exercising with others goes a long way to keeping them motivated.
Have a go at doing high intensity exercises. Being able to think: 'my workout is taking 30 minutes, i.e. 2% of my day', might make it easier to get started as you know you'll be finished soon.
Exercise from the comfort of your sitting room by investing in an indoor bike or treadmill - you can find some pretty good deals in the sales. Or get your heart rate up with some simple energetic moves like star-jumps and burpees.
Download one of the many apps designed to help you get moving. NHS.co.uk has a good app-reviewing system so you can see which options have worked for other people. Using an app means you can exercise anywhere at a time of day that suits you - perfect in variable weather conditions.
Skiing, sledging, and making snowmen are all very energetic forms of exercise. Do them as much as you can, but don't let them be your excuse for not doing anything else. The climate in the UK is not extreme enough to make snow sports habitual for most people.
Make it as much part of your routine as brushing your teeth and all your winter excuses will start to feel ridiculous. You wouldn't stop brushing your teeth because it's raining!
Listen to good music. Pick your favourite tracks to get you motivated and focused.
Remember: the beginning to work/life balance is exercise. Tell us what works for you.
As always, make sure you consult your HCP before starting a new exercise regime, and use a good blood glucose meter which suits your lifestyle. FreeStyle Insulinx can be great for people with active lifestyles or who need fast-acting insulin. It works out your insulin doses from your blood glucose and individual patient information - so you don't have to make complex calculations in order to figure out the dose you need. #win-win