FreeStyle Libre Academy for Healthcare Professionals
Better diabetes management - one scan at a time
The FreeStyle Libre Academy is a unique resource committed to supporting you, and your patients, to get the most from the FreeStyle Libre system.
There are 9 'bite-size' modules in total, which complement the education provided in the patient education.

LibreView
FreeStyle LibreLink and LibreLinkUp
Positive changes

Different ways to look at your diabetes day

Hitting back at Hypos

Keeping tabs on your glucose ups and downs

Trend Arrows - Useful Pointers

How the FreeStyle Libre System Works

The Triangle of Diabetes Care
Each module will guide you through the features of the system, equipping you with the skills and knowledge to help your patients manage and engage with their diabetes, while using the FreeStyle Libre system. The FreeStyle Libre Academy offers practical advice to incorporate into your day-to-day clinical practice, such as how to use insights from the data to have positive discussions with your patients.
Simply register for an account to access the FreeStyle Libre Academy and learn how the FreeStyle Libre system and all its tools can support you and your patients.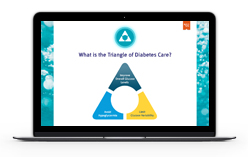 Don't have a log in?
Register online today to access the FreeStyle Libre Academy. Not only will you get access all nine modules but you'll also be able to order meter accessories online.
Register now
If you have previously registered on the FreeStyle Healthcare Professional site you can access the FreeStyle Libre Academy using your existing log in details below.
Not registered yet? Click here!
This is the Republic of Ireland Abbott Diabetes Care website
If you'd like to see country-specific content relevant to you, please visit our list of global websites, or....
continue to the Republic of Ireland website
• • • • • • • •