The FreeStyle Libre system eliminates the need for painful routine finger pricks† offering an easy way to check glucose with a painless1 1-second scan even through clothing.Ω
The small, discreet Sensor worn on the back of the upper arm continuously measures the glucose concentration in the body's interstitial fluid. It is worn for up to 14 days and is water-resistant so continues to work while your patients shower, swim or exercise.₸
People with diabetes can use the FreeStyle Libre reader or FreeStyle LibreLink app◊ to scan their Sensor and receive their glucose levels. For a complete glycaemic picture, users must scan every 8 hours. If your patient is using both the App and Reader with the same Sensor, they should scan frequently with both devices.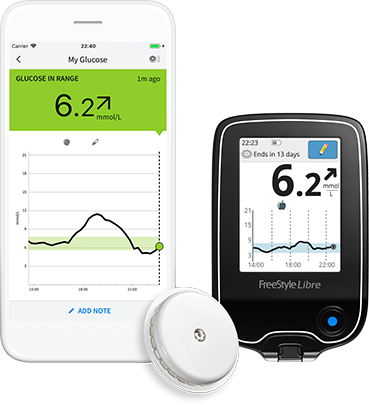 How the FreeStyle Libre System works
In 3 simple steps, your patient can get their glucose readings.
Step 1 - Apply
The sensor is applied on the back of the upper arm using the applicator. Most FreeStyle Libre system users have reported that applying the sensor was painless1
Step 2 - Scan
With the FreeStyle Libre reader or FreeStyle LibreLink app◊, the user will scan their sensor to see their glucose readings.
Note: Patients can use both the Freestyle Libre reader and their phone to scan their sensor. In this case, they should start their sensor with the reader first and then scan with the App.
FREESTYLE PORTAL
The FreeStyle Libre Academy is a unique resource committed to supporting you and your patient to get the most from the FreeStyle Libre system.
With every painless1 scan the FreeStyle Libre reader or FreeStyle LibreLink app, displays the current glucose reading, the latest 8 hours of continuous glucose data and a trend arrow showing if glucose levels are going up, down, or changing slowly.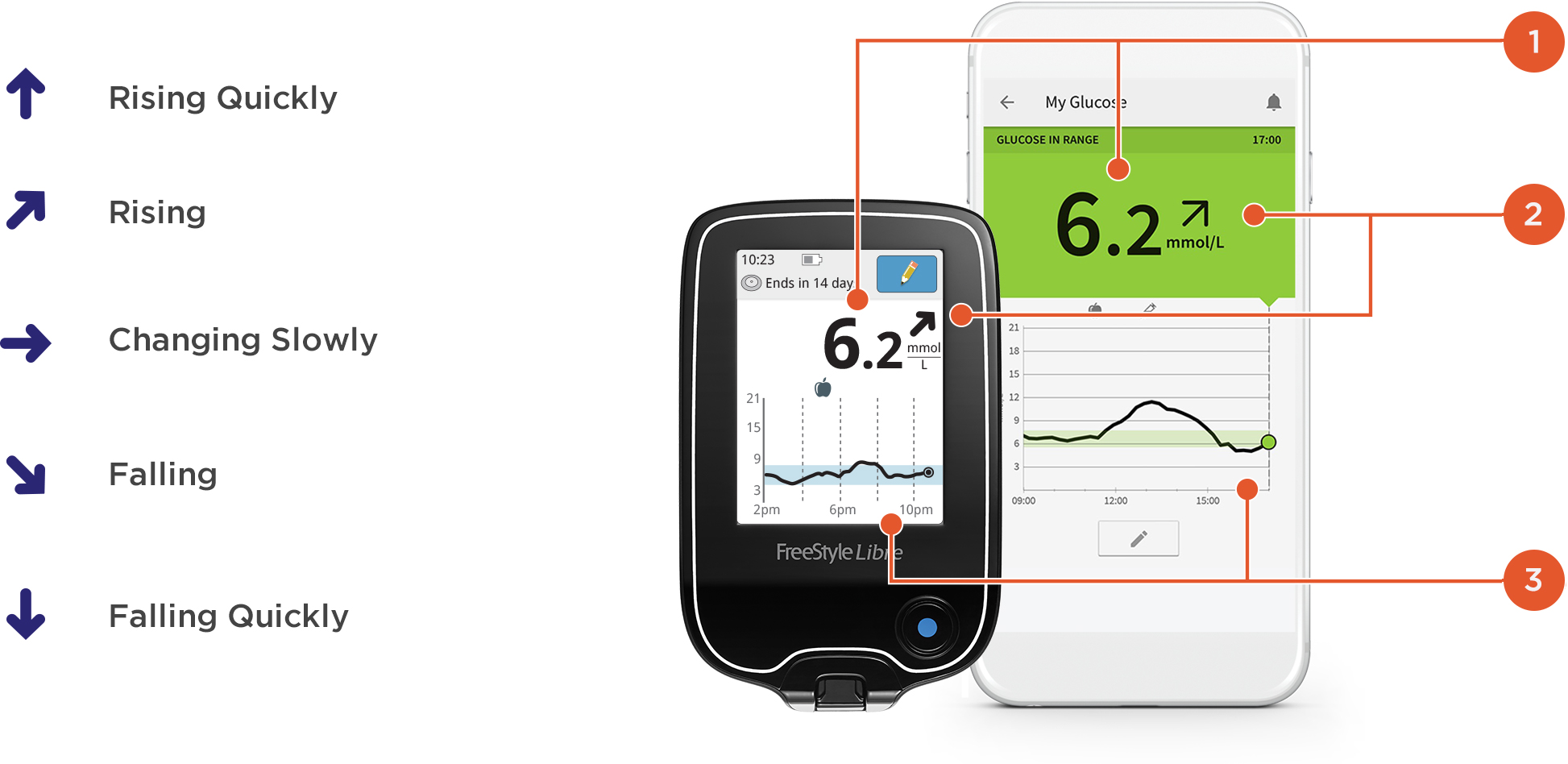 Current glucose reading
Based on the most recently updated glucose value
(1 minute)

Trend arrow
The trend arrow shows the direction glucose is heading, along with the rate of change

8-hour history
The graph is made up of 15-minute readings stored over the last 8 hours (every 15 minutes the sensor automatically stores glucose reading)
The Reader and app◊ reports allow your patients to interpret their glucose data and help make more informed diabetes management decisionsφ.
Uploading the data to LibreView,₼ our secure cloud-based system, enables patients to share their data with you and their care team, so you can access more in-depth reports to support you to make treatment decisions.
Want to know glucose variability?
Show the pattern and variability of Sensor glucose over a typical day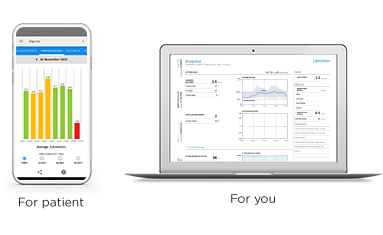 Want to see how often they're on target?
Displays the percentage of time sensor glucose readings are above or below the target range.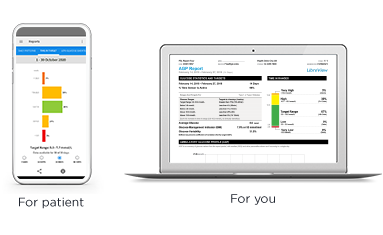 Want to see when they're having hypos?
Displays the low glucose events in different periods of the day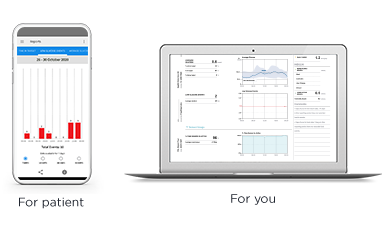 This is the Republic of Ireland Abbott Diabetes Care website
If you'd like to see country-specific content relevant to you, please visit our list of global websites, or....
continue to the Republic of Ireland website
• • • • • • • •