The FreeStyle Libre Digital Ecosystem enables users to share their glucose data with their healthcare team remotely to help you provide appropriate medical advice and care, even without meeting for an in-person visit.
With FreeStyle LibreLink app◊, patients glucose data is automatically uploadedΔ to LibreView₼, so that you can have remote access to their glucose reports anytime, anywhere.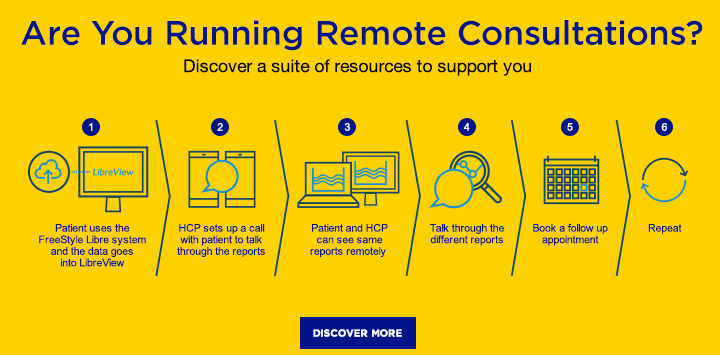 Get your patients sharing their glucose data in four easy steps:
STEP 1:
Create a LibreView practice and invite your peers
STEP 2:
Invite patients to share their glucose data
Sharing glucose data has never been easier for people using the FreeStyle LibreLink app thanks to the 'Connect to Practice' feature. See how this works for your patients.
STEP 3:
Remotely review your patient population
STEP 4:
Remotely view your glucose reports
Help you and your patients get the most out of the FreeStyle Libre System
Other Helpful Links:
This is the Republic of Ireland Abbott Diabetes Care website
If you'd like to see country-specific content relevant to you, please visit our list of global websites, or....
continue to the Republic of Ireland website
• • • • • • • •