FreeStyle Optium Neo
Blood Glucose and Ketone Monitoring System
FreeStyle Optium Neo has a choice of tools designed to help people who use insulin.
Blood glucose trend indicators
Trend indicator arrows show you when your glucose is high or low. Arrows blink if your highs or lows are becoming frequent.
An ultrathin, lightweight meter that fits in your pocket
Large, easy-to-read, high-contrast screen
Fast, accurate blood glucose results in 5 seconds
Tiny blood sample, with no coding required
Log your insulin doses with a few simple taps
Helps you avoid mistakes like skipping a dose or taking the same dose twice.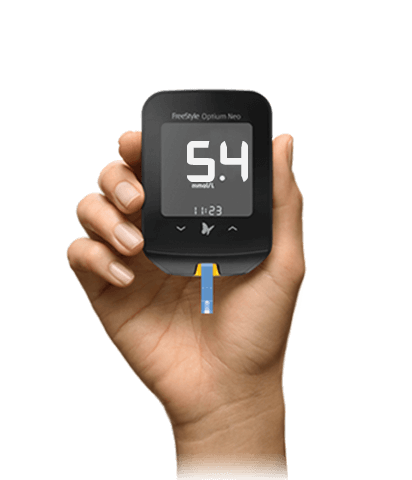 Features and Benefits
Demonstration Videos
Find out more by watching the FreeStyle Optium Neo Blood Glucose and Ketone Monitoring System demonstration videos.
FreeStyle Auto-Assist Neo Software Auto-Assist Neo Software
Your guide to more support
In order to create reports or change meter settings, simply download the FreeStyle Auto-Assist Neo Software, connect the yellow USB cable to your FreeStyle Optium Neo and your computer. The software will then automatically begin the installation process.
Find Out More